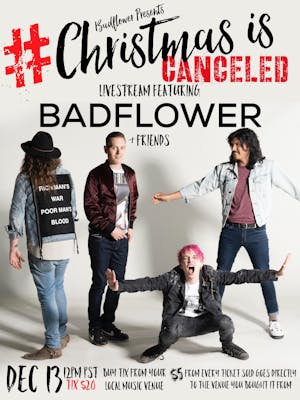 BADFLOWER - LIVE STREAM PERFORMANCE
,
$20.00
Sales Ended
On Badflower
BADFLOWER - #ChristmasIsCanceled - Live Stream Performance! December 13th 2020 at 12pm PST / 1pm AZ
Since #ChristmasisCancelled this year, join Badflower for an evening of music and misery- it loves company and they miss yours! They also miss playing shows at venues like ours so for every ticket sold they're giving us $5 to help keep our doors open! Click our unique link to support live music and spend an evening crying with Badflower!
Sunday December 13th 2020
12pm PST / 1pm AZ
Live Stream Performance
Venue Information: