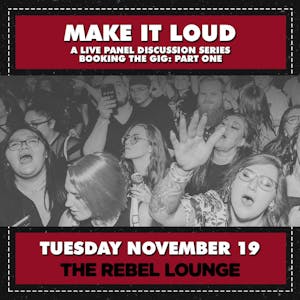 MAKE IT LOUD
David Moroney A/K/A Mitch Freedom, Holly Pyle, Brandon Kellum
The Rebel Lounge
Phoenix
,
AZ
MAKE IT LOUD - Booking The Gig Part One. November 19th 2019 at The Rebel Lounge.
MAKE IT LOUD is a new live panel discussion series on how to make it as a new artist in today's music industry. Hosted by Stephen Chilton and Jeff Taylor of Psyko Steve Presents, MAKE IT LOUD is a monthly series of talks with a curated lineup of special guests. The guests include industry figures in Arizona's music business, as well as established musicians on a wide range of topics aimed at helping new artists learn how to navigate an ever changing music industry.
The latest talk in the MAKE IT LOUD series, titled "Booking The Gig - Part One," will be a conversation with some of the Valley's most notable musicians and talent buyers. We will discuss how to get your band on stage and in front of a live audience!
Chilton and Taylor will be joined by guests David Moroney (A/K/A Mitch Freedom), Holly Pyle (House Of Stairs) and Brandon Kellum (American Standards)
Tuesday November 19th 2019 at The Rebel Lounge.
Doors at 7:00 pm / Discussion begins at 7:30 pm.
This event is all ages
FREE
DAVID MORONEY
Stateside Presents / Phoenix Afrobeat Orchestra
David Moroney A/K/A Mitch Freedom has been a musician and recording artist since a very young age. He has been highly involved in the Music Industry for over 25 years, starting as an independent artist and eventually foraying into a career in event coordination for Stateside Presents thanks to his multifaceted skill set steeped in style, marketing and communications.
HOLLY PYLE
House Of Stairs
Voted best vocalist of 2019 by Phoenix New Times, Holly Pyle channels her "liquid-like voice" and intense presence into several local and traveling music projects including House of Stairs, The Dmitri Matheny Group and Live from Laurel Canyon. Since beginning her performance career in 2013, Holly has sung over 1300 performances, released 3 albums, and has given several clinics about songwriting and loop station technology.
BRANDON KELLUM
American Standards
Brandon Kellum is the frontman for the band American Standards which has been featured in publications such as Alternative Press, Revolver, Metal Injection and Decibel Magazine. Brandon played his first show in 2002, and has since booked over 500 shows locally and nationally with artists such as Atreyu, The Used and Emery. Brandon booked at The Clubhouse, The Sets, Neckbeards, The Mason Jar, Bright Star, Paper Heart, Metal Devastation and just about every other defunct venue the "old timers" reminisce about. Brandon can now be found DJing nostalgia nights, local comedy shows and your distant cousin's quinceañera.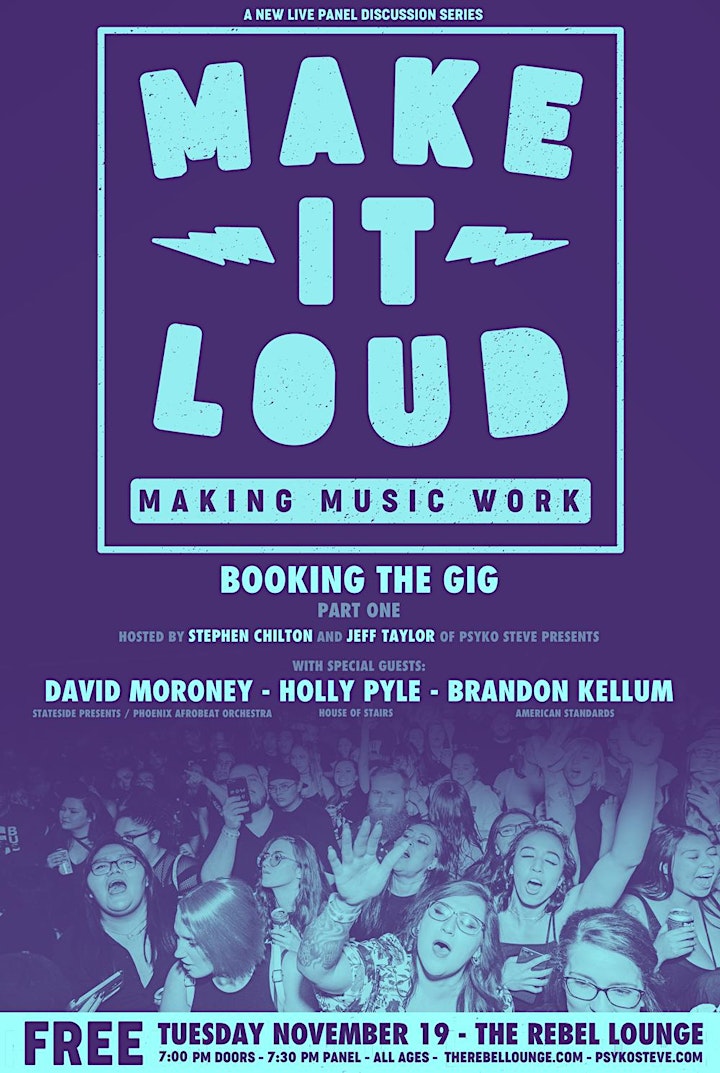 Venue Information:
The Rebel Lounge
2303 East Indian School Road
Phoenix, AZ, 85016