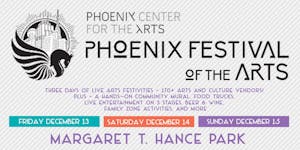 Phoenix Festival Of The Arts
The Maya Spectra, Hyperbella, Moonlight Magic, The Blood Fued Family Singers, John Cornelio
Margaret T. Hance Park
Phoenix
,
AZ
PHOENIX FESTIVAL OF THE ARTS will take place at Margaret T. Hance Park, from Friday December 13th through Sunday December 15th 2019.
PHOENIX FESTIVAL OF THE ARTS
Featuring
THE MAYA SPECTRA
HYPERBELLA
MOONLIGHT MAGIC
THE BLOOD FUED FAMILY SINGERS
JOHN CORNELIO
OPTIMYSTICAL
Phoenix Festival of the Arts returns home to Hance Park in time for some excellent holiday shopping opportunities, December 13-15, 2019. Phoenix Center for the Arts is proud to present the eighth annual event, featuring more than 170 art vendors, and cultural organizations. It's a perfect time to connect with the local art community and celebrate the season.
The Festival's Main Stage, sponsored by Rebel Lounge, includes some of the best local bands in town.
Sunday December 15th 2019 at Margaret T. Hance Park
10am - 5pm
All Ages. Free!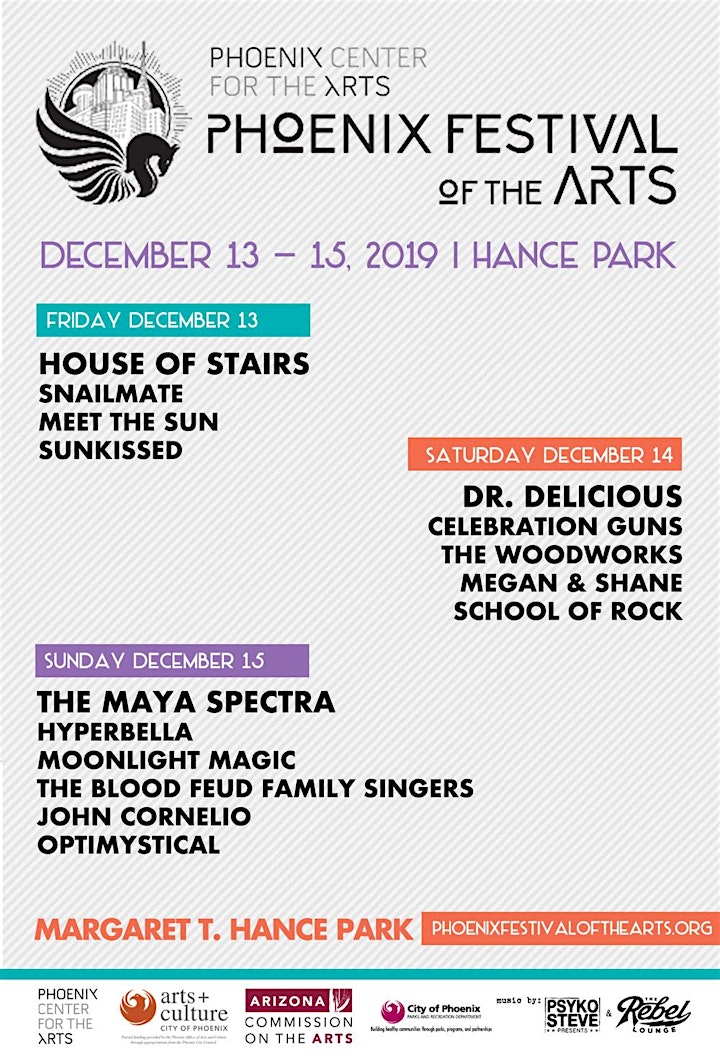 Venue Information:
Margaret T. Hance Park
1202 N. 3rd Street
Phoenix, AZ, 85004